A balloon flight is an amazing experience to live together. Get on board with us and be ready to live a unique experience, a moment of stillness and serenity that you will keep in mind forever.
For every passenger's safety, it is important to observe some precautions. We encourage you to read carefully the following instructions and to observe your pilot's indications on the day of your flight. 
Enjoy your flight with us in the beautiful Dordogne valley !
Get ready for your flight
Confirmation of your flight
48H before the flight ( at latest)
Call us or text us at +33683264766 to confirm your presence.
The previous day before 2pm
We will send you a text ( or failing that, an email) to let you know about the meeting time
Approximatively:
Morning: Sunrise
Evening: Sunset
The location will also be specified.
Meeting location
Our meeting point is located in Castelnaud La Chapelle ( 24250).
We will meet you at the time previously stipulated, on the big parking lot down the village, more specifically behind the bakery "Maison Carré".
Coordonnées GPS : 44.812846, 1.152411
Map: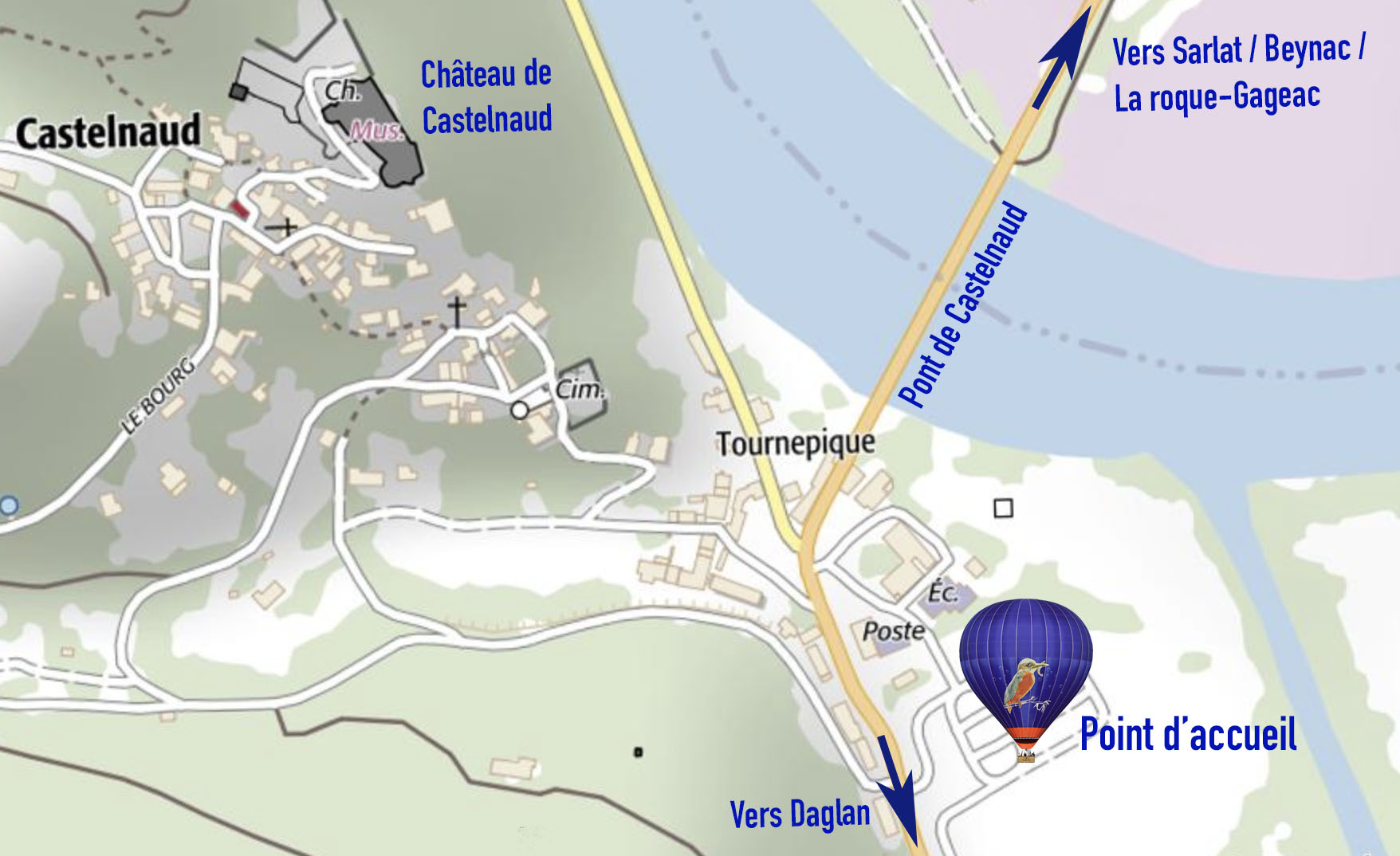 Specific sanitary measures concerning the coronavirus
For your safety, we have adopted a strict protocol based on the European Aviation Safety Agency and compliant with the prescriptions of the Secretary Of State for Transport.
It is difficult to respect the 1m distancing between passengers in the basket, therefore it is required that you wear a mask during the entire experience. We recommend you to bring your own. If you don't have one, we will provide you a classic protection mask.
When you arrive, we will ask you to carefully wash your hands with hydroalcoholic solution. This process should be repeated before going in the vehicules, the basket and after the flight.
Complementary measures have been set up for you own safety:
On the ground: We will ask you to respect 1m distancing with the passengers
Vehicules, handles, edges of the basket will be cleaned through a spray of virucidal solution, after each flight
Your attendants will be wearing personal masks and gloves
Touching any equipment is forbidden without permission
Unfortunately, the persons accompanying you will have to stay out of the field during the preparation and take off
The debit card machine will be cleaned after each use
We will ask you to fill in a COVID-19 certificate and to take it with you the day of your flight. If you can please "click here to download". This is a self statement so it needs to be filled with one certificate for each passenger.
If you are 65 years old or have any health information , please let us know as soon as you can. In this particular situation, you are responsible for enquiring extra protection that you will consider necessary ( double mask, double gloves, protective visor, medical approbation…)
OUTFITS
In general, the temperature during the flight is between 2 and 4 degrees Celsius less than the one on the ground.
Take an extra sweater just in case.
Clothes in synthetic material ( we advise against fleece jackets for example). You'd rather wear natural material or cotton made clothing.
Confortable and closed shoes are a must ( sneakers or hiking boots). Sandals, high heels are forbidden.
Hats or caps are recommended
Backpacks or rucksacks are not permitted on board. You can leave your personal effects safe in our vehicules. They follow us from the beginning to the end of the journey.
Take a small bottle of water if needed
PHYSICAL CONDITIONS- ABILITY TO FLY
The company is not qualified to judge any physical conditions or abilities to fly with us. It is the passenger's responsibility to get any advice from someone whose authorized to do so ( your referring physician for example)
It is your responsibility to let us know about any important information concerning your health before the flight.
You won't be able to fly if you have a severe medical issue, or if you had a recent surgery. A valid medical certificate proving your capacity to fly with us can be required.
The baskets are not fitted with seats.
The following persons are not allowed on board:
Expectant mothers;
Children under 6 years old and less than 1,20m or 3ft9
Anyone under the influence of alcohol or drugs
Children under 12 years old must be accompanied by an adult, with a minimum of 1 adult for 5 children. It is the adult's responsibility to let us know the exact age of the children.
Passengers with disabilities must be accompanied.
Baskets are not equipped with doors and unfortunately, we can't welcome wheelchairs on board.
THE FLIGHT
Check in
Each passenger have to get a flight ticket in order to got on board of one of our balloons. This ticket will be issued at the meeting point, the day of your flight.
Hot air balloons are flying at precise hours in order to benefit the best flying conditions : we can't delay taking off, so don't be late !
Payment will be made at the meeting point, we accept :
Debit cards ( we do not accept American Express)
Cash ( 200€ and 500€ notes are not accepted )
Cheques ANCV ( please check the validity and make sure your name is on each note given)
If you already have a "gift ticket" or a flight ticket issued by one of our providers, it will be requested to confirm your check in. This ticket is essential.
We will take advantage of this moment to explain the conduct of your experience with us and to introduce you to some essential safety measures.
Out of safety, accompanying persons – exceptions made for needed persons-  are not permitted on the lauch site.
We may invite them to watch it from a place at a reasonable and safe distance of take-off.
Preparing the flight
After check-in, you will get in one of our vehicules to be transferred on the take-off field. Once we arrived on the land, the pilot will ask you to be really careful to the security briefing and then you will witness the balloon's inflation, set up and weighing.
Take off
Once the envelop is filled with hot air, the balloon is all set up for take off. Then, passengers can climb on board while the pilot is doing a last check. Once the weigh is done, the pilot will release the weight master in order to slowly elevate ourselves in the sky.
The flight
Carried by the gigantic hot air bubble, you will evolve following the wind and will discover some of the cultural, architectural treasures of our beautiful valley.
Landing
After about one hour flight, the pilot will select an appropriate field for a slow landing. The team on the ground join us and take part in folding up the balloon.
Toast of the aerostier
In order to celebrate this amazing event, we invite all the passengers to join us for a toast. During this privileged time, we will share our experiences and our emotions over a drink.  
HUMLITY
Neither of the passengers nor the pilot get to decide… The law of nature is unpredictable.
If the weather is uncertain , the pilot can decide to delay the flight, or to postpone it. Your safety is our priority…
Such an amazing moment requires amazing conditions, be sure that we will do everything we can for this experience to be unforgettable.