A flight as a gift idea
a unique, unforgettable gift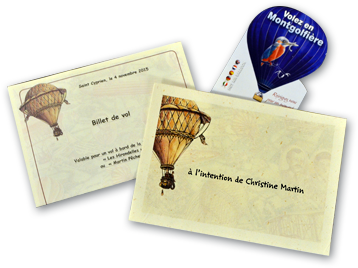 An exceptional gift!
If you want to offer a flight as a gift, we will send you or the person of your choice a "gift ticket".
The recipient of the gift will contact us when desired, to agree on a date for the flight. If the weather prevents us from flying, the ticket validity will be postponed as many times as necessary.
The overall time spent together will be about 3 hours, including one hour of flight. Each flight is followed by a drink or a breakfast for morning flights. Pictures of the flight are available on demand.
The payment for the gift ticket is due on or before receipt of the ticket mailed.
This ticket is valid for 12 months, and is non-refundable.
One-hour flights
Adults : 205 €
2 flying : 195 € per person
4 flying : 185 € per person
kids under 12 : 115 €
Flight Over wind and History
Exclusive flight, proposed by Patrick Becheau and Anne Becheau, historian.
up to 3 flying : 1100 €
4 to 7 flying : 1700 €
Flight "at dawn"
2-hours flight.
We will take off at dawn, spend some time in high altitude, and come down to explore the landscape.
2 passengers : 950 €
Additional passenger : 260 € / passenger
Magic flight
Flight 1h / 1h30. The magic of dinner on board – The basket is reserved for you
Tasting and dinner served on board: "caviars" of Dordogne, "Foies gras" of our selection, hot dish prepared by Michel Young chef of the "Château de Monrecour" restaurant, champagne, wine.
2 passengers : 950 € (per additional person : 270 € par passager)
Additionnal passenger: 250€